Tampa's Opioid Epidemic


How The Opioid Epidemic is Affecting Tampa
Tampa's Opioid Epidemic has had devastating consequences for the city. It has largely mirrored the nationwide epidemic trends. According to the Centers for Disease Control and Prevention, the origins of the Opioid Epidemic can be traced back to the mid-1990s, when pharmaceutical companies began pushing out copious amounts of prescription painkillers like hydrocodone and oxycodone. Between the years 1999 and 2019, roughly 500,000 Americans lost their lives to fatal opioid overdoses. The annual numbers continue to get worse. From May 2019 to May 2020, the CDC reported more than 81,000 drug overdose deaths  — the highest number of overdose deaths ever recorded in a 12-month period.
The Three Waves of the Epidemic
Several sources say the epidemic developed in three distinctive waves. the first wave began in the mid-1990s with a dramatic increase in the prescription of opioid painkillers. Pharmaceutical companies marketed these medications as non-habit forming and otherwise safe to use. It was soon discovered, however, that they had an extremely high potential for abuse, and that physical dependence was building rapidly in patients.
Government officials cracked down on distribution, but for many it was too late — an opioid dependence had formed, and if they couldn't get their fix from the medication they had initially been prescribed, they would get it by any means necessary. For many, this was heroin. This marked the second wave of the opioid epidemic — a sharp increase in heroin addiction cases and heroin-related overdose deaths began in 2010.
The third wave began in 2013, when our nations started to see a surge in synthetic opioids like fentanyl, which was often cut into heroin to increase its potency and decrease its cost. Imports of these synthetic opioids were also very hard to detect as they came into the country from foreign countries like China and Mexico. One synthetic opioid, carfentanil. Carfentanil is a synthetic opioid approximately 10,000 times more potent than morphine and 100 times more potent than fentanyl. The  result of the surge in synthetic opioids resulted in a significant increase in opioid overdose deaths.
We Are Here For You
Let Us Help You Heal
Our Opioid detoxification experience is second to none.
Learn how we can help by speaking with one of our Treatment Advisors today.
Tampa's Opioid Epidemic
Tampa, Florida has been especially hard hit by the opioid epidemic. An article recently published in the Tampa Bay Times attributes the alarming rates of overdose-related death in Tampa to the fact that opioid users have no idea what combination of chemicals they are ingesting every time they purchase their drug-of-choice from a local dealer.
Pinellas County has seen steadily increasing rates of overdose fatalities for several years. In 2018, the county saw 323 deaths — in the first half of 2019 they had already seen 200 so were on trend to exceed 2018's numbers. Hillsborough County and Pasco County have also seen increasing rates of opioid-related death. Fentanyl is driving the issue at hand, and Tampa has actually seen some variations of the potent synthetic opioid that have not been identified anywhere else in the country.
"Now that the so-called 'pill mills' have largely closed, addicts are turning to the streets," the article reads. "They're finding cheap and easily manipulated fentanyl. Officials at Newman's lab have identified over a dozen different chemical variants of the opioid in their recent testing. During the winter of 2018-2019, Newman's lab found one strain, Fluoro Furanyl Fentanyl, that was unique to Pinellas-Pasco. It was reported nowhere else in the United States, and it was associated with 40 local deaths."
Our Opioid Detox Services Include
---
Deaths Caused by Tampa's Opioid Epidemic
The exact number of opioid-related overdose deaths throughout Tampa might be inaccurate, according to another article published by the Tampa Bay Times in January of last year. According to a researcher at the University of South Florida, overdose deaths are grossly underreported throughout the country. The researcher found that here were more than 7,000 overdose deaths in the state of Florida alone that were not reported by the government between the years 2008 and 2017. This is more common when it comes to members of certain demographics. For example, men and women in low-income communities or who are in the sex-working industry and who die at the hands of an overdose-related death are often overlooked by government officials. The sad reality is that opioid overdose has become so prevalent throughout Tampa and the rest of the country that even with thousands of deaths missing from official reports, the numbers are still exceedingly high.
Ready To Begin Your Opioid Detox?
We Offer A Safe & Effective Program
Don't let Opioid addiction control your life.
Call us today and let's get you started on the path to a better you.
Opioid Withdrawal
Opioid withdrawal can be an agonizing experience that makes quitting seem impossible. A medical, medication assisted detox, is most often necessary to get an individual addicted to opioids one the road to recovery.
Opioid withdrawal generally resembles the symptoms associated with a bad flu and can last for between three days and two full weeks depending on the severity of the substance abuse disorder.
Symptoms of opioid withdrawal include:
Flu-like symptoms including runny nose, watery eyes, stomach ache, cold sweats, chills and a low-grade fever
Gastrointestinal issues including nausea, vomiting and diarrhea
Psychological symptoms including anxiety and depression
Sleep disturbances such as insomnia, an inability to fall asleep or stay asleep, or vivid and disruptive nightmares
Additional physical symptoms including excessive yawning, severe abdominal cramping, general feelings of physical discomfort and uncontrollable shaking
At CuraSouth we effectively treat all of the symptoms associated with opioid withdrawal in a controlled and closely monitored environment. We use a combination of evidence-based detox techniques, including medication assisted treatment (including Suboxone, Subutex and over-the-counter pain relievers and sleep aids), holistic treatment methods (acupuncture, mindfulness meditation, physical therapy and massage therapy) and intensive behavioral therapy. To learn more about the addiction services we provide, contact us today.
Begin Healing Now! Have A Call With One Of Our Treatment Advisors
Caring & Experienced Staff

Fully Licensed & Accredited 
Don't Suffer Any Longer
What to Expect From an Opioid Detox
If you or someone you love has been suffering from an opioid abuse disorder of any severity, medically monitored opioid detox is most likely the first step. If you or your loved one has never been admitted to a detox program previously, you might be wondering what to expect. At CuraSouth we know how intimidating and overwhelming committing to a program of addiction recovery can seem at first. Rest assured we are available to help walk you through every single step of the early recovery process, and we remain dedicated to making the entire experience as straightforward as possible for you and your loved ones.
Once you give us a call we conduct a brief pre-assessment and look at your coverage options. Our admissions process is simple and straightforward. We realize there is often only a short window of willingness to get help and go to detox. So as soon as we talk, we get to work arranging a stay at our beautiful detox facility in Tampa, Florida. Once you or your loved one arrives at our facility we conduct an in-depth clinical and medical assessment that helps our clinical team determine which treatment options are going to be the most beneficial for each unique case. This assessment also helps our case managers begin developing individualized treatment plans and plans for continuing care. At CuraSouth we believe that medical detox is only the first vital step on the road to recovery. Our aftercare planning team helps each client arrange the next steps — whether that's transferring to an inpatient residential stay, or an intensive outpatient program, or something else. CuraSouth is committed to every client's continued success in recovery.
To learn more about CuraSouth's Opioid detox program contact us today.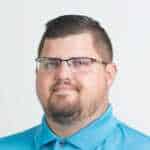 Reviewed for accuracy by: our Clinical Director:
Travis is a Licensed Clinical Social Worker and Certified Addiction Professional. He has worked in various community-based settings, where he served families and couples, addressed issues related to homelessness and crisis and worked in a substance abuse setting.